Monday, 22 February 2010 20:08
The safest, most reliable hidden dog fence in Rhode Island... there's just no getting around it.
We understand that your pet is an important part of your family. With our outdoor hidden dog fence and indoor pet containment systems, you can have peace of mind about the safety of your dog or cat.
Hidden Pet Fences - Freedom and Safety for Your Pet
"The Best Thing We Ever Did". That's the reaction we love to hear from our satisfied DogWatch clients and we are committed to providing you and your pet with the same rewarding experience. We understand the thrill of welcoming a new puppy or dog into your family, but we're also familiar with the responsibility of keeping it safe. That's where DogWatch of the Ocean State comes in and we'd be happy to schedule an in-home visit to meet you, your pets, walk your property and answer all of your questions in person.
Trade-In Opportunity (for Invisible Fence®, PetStop® and other systems)
If you have an Invisible Fence®, PetStop® or other professionally installed hidden fence, we'd be happy to upgrade you to a DogWatch system. We make it easy for you to get the very best! In most situations we can use your existing buried wire, so all we have to do is swap out your equipment and adjust the settings. We'll even discount the cost of the new equipment!

Meet your Dealer
Thank you for considering DogWatch of the Ocean State. My name is Betsy Kemble, I've been a dog lover all my life and 25 years ago I purchased a system to contain my own rascally Jack Russells. Once the dogs were trained and I was confident I could throw the doors open for all the dogs and children to go out to play, without worry, I realized how much it had changed how we could live as a family.
Fast forward, I still have a Jack Russell, Lily is my partner, she rides everywhere with me and is a huge helper training our client's dogs. With nearly twenty years experience in the business I was thrilled when the opportunity to become a DogWatch dealer opened up. When clients ask what I think is the biggest difference between DogWatch and Invisible Fence, my answer is trust.
We take the responsibility of keeping your pets safe as seriously as you do. We want you to join our family of clients and experience the thrill of opening your door, letting your dog out, with the confidence of knowing the worry is over. Contact us today to learn more.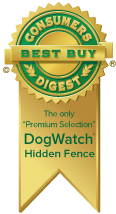 DogWatch® is not Invisible®
DogWatch "hidden fences" are often mistakenly referred to generically as "invisible fences". Invisible Fence® and Invisible Fencing® are Brand names, products and registered trademarks of Radio Systems, Inc. Click the links below to learn more:
Last Updated ( Tuesday, 18 August 2015 20:24 )
I interviewed several local electric fence companies prior to deciding to go with Betsy Kemble and DogWatch. I felt very comfortable with Betsy and found her training style with Scarlett very warm and caring. Biggest is not always the best....we highly recommend Betsy and her company!

Elizabeth M.